Skip to Content
Sunrooms/additions in Atlanta, GA
Sunroom Builders & Contractors at Decks & More
Decks & More has over 20 years of experience helping Atlanta homeowners add sunrooms and other additions to improve their space. These add-ons increase not only the value to your home but to how much you can enjoy your space while living in it. The newly added rooms give you space for more entertaining, doing your hobbies, or adding more décor. They can also help bring in natural sunlight if your home doesn't get as much during the day. You can start this process by giving us a call for a free consultation. You and one of our experienced designers will sit together and develop blueprints for your new space.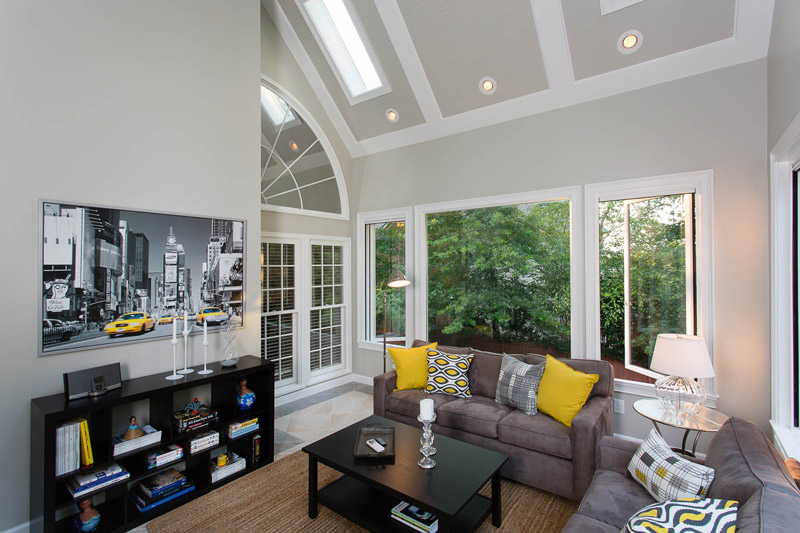 Benefits of Adding a Sunroom to Your Atlanta Home
Sunrooms add so much character to a home, and with the great weather we experience in Atlanta, you use this space as not only a room to hang out in but grow an indoor garden. There are so many other benefits you can receive by having our professional designers and installers work with you:
Add Value to Your Home's Resale
Having more space will automatically raise the value of your home when it comes time to sell. And when you work with Decks & More, the space looks beautiful also to increase the curb appeal, which helps get you more money when selling.
Save Money on Monthly Bills
Most sunrooms are constructed with large windows, which allow more sunlight to get through. Your space will get more warmth than your heater could provide, allowing you to turn it down in the winter. Opening them in the summer can also cut your energy costs down as well. You also won't have to use as much electricity either. Even on cloudy days, you will get more light than a bulb could provide.
Add More Square Footage
Give yourself some more space to perform your yoga routine with natural sunlight, create works of art with your watercolors, or provide your kids with an extra play space. We will work together to help design your sunroom for whatever you would like! You can even just use it for more storage space.
Boosted Mood
The natural sunlight added to your home will increase your vitamin D levels, which automatically makes you happier. Enjoying soaking in the sun while you have your morning coffee or while you take an afternoon nap. No matter how cold or windy it is outside, you can still enjoy the sunshine inside.
Need Help Designing? Trust Decks & More
We have helped build over 500 sunrooms and other additions in Atlanta. Trust our experience when designing your new space to meet all of your needs and wants. Working as a team, we will collaborate to design a new room for your home.
Contact Us Today for a Free Consultation