Skip to Content
The Composite Decking Specialists in Atlanta, GA
Quality, Affordable Composite Decking Installation
Composite wood decking is versatile, functional, attractive, and long-lasting. While composite decking looks like natural wood, it is low-maintenance and easy to care for, and it resists pest and insect damage. At Decks & More, our contractors and builders specialize in using quality composite decking in Atlanta, GA. We can design beautiful, modern decks that increase your outdoor living space, add value to your home, and allow you to spend more time outdoors. Call us today to request an estimate for a composite decking installation.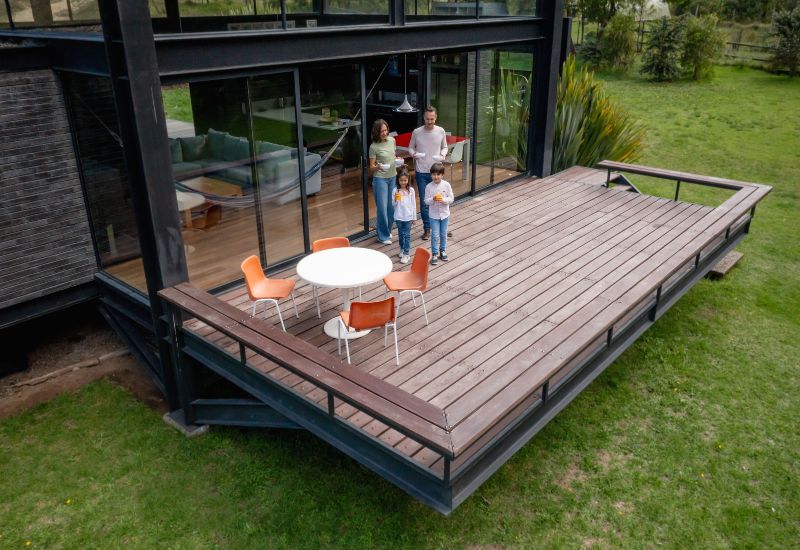 What Is Composite Wood Decking?
Composite wood decking is manufactured from a blend of wood fibers and plastic. This creates a durable, high-performance building material that is weather and pest-resistant, attractive, and affordable. Composite decking is a great investment because it requires little maintenance and upkeep, and it creates a beautiful, functional outdoor space that you can enjoy for decades. Most composite deck builders offer a variety of colors, textures, and styles of decking to complement any architecture or design aesthetic. You can also choose composite decking that is moisture, insect, scratch, and slip resistant.
Hiring a Qualified Composite Deck Builder
When you hire a qualified, licensed composite deck builder, you will have the peace of mind that comes from knowing the project will be completed correctly and safely. Our composite deck contractors have extensive education, training, and experience, and will handle every element of the project. We will design a custom deck, draw up blueprints and plans, secure permits, source quality materials, and ensure the end result is beautiful, durable, attractive, and safe. If you want to increase the value of your home and increase its functionality and comfort, you should hire our experienced composite deck builder.
The Pros & Cons of Composite Decking Installation
If you're already considering a custom deck build, there are many reasons you should choose a custom composite deck. The pros of composite decking installation are:
Durable
Low-maintenance
Sustainable
Less frequent need for staining or refinishing
Scratch, stain, and slip-resistant
Available in a wide variety of colors, finishes, and styles
More fire-resistant
Less likely to splinter, rot, or warp
Like any building material for custom deck builds, composite decking does have its cons as well:
Subject to price fluctuations based on brand and manufacturer
At risk of mold and mildew growth (but can be treated to resist it)
Looks slightly less natural than wood
When you compare natural wood decking and composite decking, you find that while wood is less expensive, composite decking is still affordable. The cost of a composite decking installation is worth it when you consider the fact that you will spend less on maintenance, upkeep, and repairs. Plus, composite decking is durable and more resistant to pests and insects.
Composite Decking Accessories
When you hire us as our composite deck builders, we will design a custom deck that meets your needs and complements your lifestyle. We also offer composite decking accessories, such as:
Safety railings
Composite fasteners
Fascia board
Shade structures
Lighting
Custom finishes
Stairs
Why Choose Us as Your Composite Deck Contractors?
We have been in business for over 20 years, and our team has extensive experience, education, and training in designing and building custom additions to homes. We love our job, and love meeting new customers and guiding them through the process of creating their dream homes. We specialize in custom decks, sunrooms, additions, patios, covered porches, and outdoor kitchens.
Our passion and dedication drives us to turn in quality, beautiful projects that add value and enhance the beauty of our customers' homes. Choose our team if you want the best in work ethic, design quality, and attention to detail, and you won't be disappointed in the custom composite deck we build for you.
Request a Custom Composite Deck for Your Home
Call us today or contact us online to schedule a consultation or request a free estimate for a custom composite deck in Atlanta, GA. Our team of experienced composite deck contractors will assess your needs and vision, and find quality, affordable solutions that make your dreams a reality. Let our team build you a custom composite deck that will add beauty and value to your home.
Contact Us Today for a Free Consultation