Skip to Content
Composite Deck Builders in Atlanta
What Is a Composite Deck?
Composite decks are synthetic decks that are made from a combination of plastic and wood fiber, instead of just wood like a traditional deck. The materials we use to create composite decking are high quality and can even mimic the appearance of a wood grain. Composite decks can also be slip resistant, which offers an added element of safety and security. Composite decks help you avoid all the issues associated with wood decks like weathering, splitting, molding, shrinking, and more. The range of color options makes composite decks highly customizable. Since they have first been put into use, composite decks have vastly improved in quality. They are now considered some of the most durable and lasting decks on the market.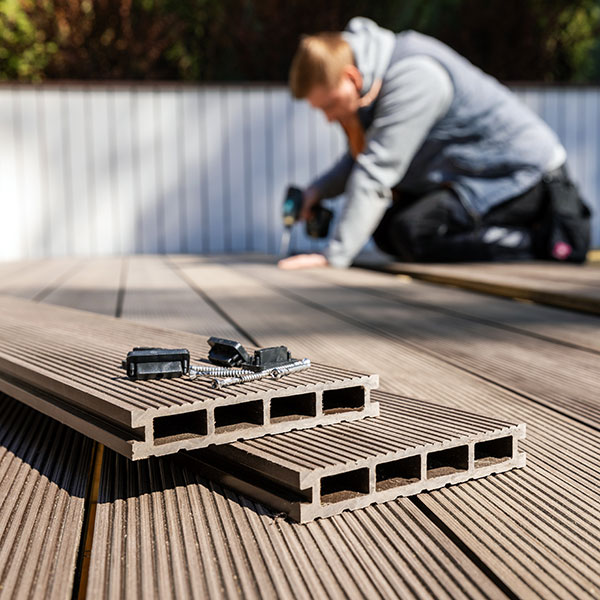 What Is a Composite Deck Made Of?
Composite decks are made from a combination of plastic and wood fiber. Most of the material in composite decking is made up of recycled material such as used pallets and sawdust, reclaimed wood, and reused plastic shopping bags. It can also contain wood chips or other materials. When you go with a composite deck from Decks & More, you know you are making a sustainable and environmentally friendly choice.
We Help You Create a Truly Custom Composite Deck
Decks & More can customize your deck to your exact specifications in order to help create your dream deck. A composite deck can be customized just like a wood deck in terms of railings, lighting, and finishing options. We can help you choose from an assortment of high quality, high-definition wood grain patterns and colors. With these features, a composite deck can achieve the look of a wood deck, with all the benefits and durability of a synthetic deck. Our team is here to make your deck dreams come true.
Benefits of Composite Engineered Decking
There are many benefits to composite engineered decking. Decks & More provides composite decks that are environmentally friendly, beautiful, elegant, and extremely durable. Opting for a composite deck instead of a traditional wood deck can drastically reduce the fire risk to your home, as composite decks are far less likely to be set ablaze in the case of a fire. Composite decks help you avoid many of the downfalls of a wooden deck such as rotting, warping of wood boards, splintering, and more. Composite decks are in need of far less maintenance and repair than a traditional wood deck. Composite decks provide the look and feel of a wood deck without the downsides and the environmental impact of a wood deck. Decks & More recommends that you consider a composite deck for your home today.
Get in Touch With Our Professional Composite Deck Builders Today
Are you considering adding a composite deck to your home? Decks & More has you covered. With our team comprised of experienced professionals, we are here to install a durable and aesthetically pleasing deck customized to your specifications. Call today to get a quote or drop us a line through our site's message feature.
Contact Us Today for a Free Consultation