Skip to Content
Rely on Decks & More for Superior Building Services
If you're ready to build an addition to your home, such as a porch or deck, or are looking to remodel spaces inside your home, the team at Decks & More is here to help. Our patio contractors offer multiple home services for homeowners in Atlanta, GA. We always start by providing you a free consultation to discuss your designed project. We welcome your design ideas, and we can also help you come up with them thanks to our experienced design team, who can sketch some excellent ideas based on your wants, needs, and budget. Once we come up with your ideal blueprint, our professional building and installation team quickly gets to work. We are also available to you throughout the entire process, so don't hesitate to get in touch with us to ask us any questions you might have or get an update on your project.
Offering Building Services for Your Whole Home
When you hire Decks & More, you can expect a project that's designed and installed quickly from a professional team that is licensed, certified, and insured. We train our team on the latest methods and techniques and equip them with the industry's best tools to ensure your new addition or remodel adds value to your experience and home. Learn more about the services we provide for Atlanta homeowners:
Decks – Our custom deck builders can create outdoor living spaces that meet your exact size and design specifications. We can create the perfect deck so you can host family gatherings or relax after a long day. We offer multiple materials to choose from, including wood decks and composite decks.
Sunrooms – Our sunroom builders can help you enjoy the Georgia sun without leaving your room. Sunrooms are an ideal gathering spot and offer beautiful views while increasing your home's resale value.
Outdoor Kitchens – Our kitchen contractors can give you a place to gather with family and friends. Your outdoor kitchen will add value to your home, expand your living space, and help you save money by cooking at home.
Porches – Sit outside and enjoy the Georgia sun without worrying about pesky insects. We offer screened porches that expand your living space and increase your curb appeal. We can add front porches or screened-in back porches. Our porches builders are the best in the area.
Patios – We build multiple types of patios for homeowners, including paver patios, brick patios, flagstone patios, gravel patios, slate patios, and concrete patios. You can have an open or enclosed patio and add features such as a kitchen or firepit.
Bathrooms – Our bathroom contractors and builders can upgrade your bathroom to make it more eco-friendly, help you save money on your space, increase your home value, and make a space you can be proud of.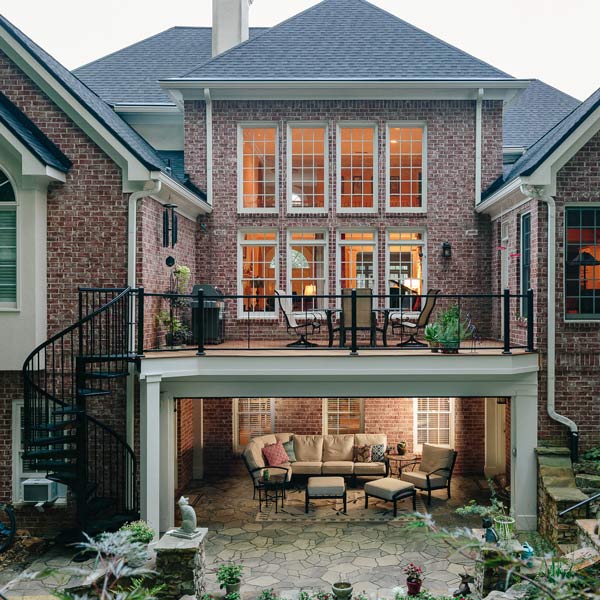 Our Building Process
The team at Decks & More is very detailed, and we have our process down to a science. We start with a free consultation where we discuss your wants and needs along with your budget. We'll visit your home to make sure we can complete your deck, sunroom, outdoor kitchen, porch, patio, or bathroom for you. After that, we'll get to work. During our building process, we do our best to minimize disruption to your daily life and keep you updated on the status of your project.
Why Choose Us?
Adding a beautiful porch, deck, sunroom, or pergola can improve your quality of life, enhance your home's curb appeal, and expand your living space. We can make your vision come to life by designing and building your home addition or remodel. We're the right choice for your next project because we offer high-quality workmanship and exceptional design skills. You can count on us to use the best materials for your project to ensure they hold up for years to come. We back up all of our projects with a five-year warranty for your peace of mind. If there is ever an issue with your deck, porch, outdoor kitchen, or any inside project we complete, we will fix it right away and ensure you are satisfied. Our main priority is to take care of our customers in the Atlanta area. We go above and beyond in every area of the construction process and aim for your complete satisfaction. Contact us today for a free consultation.
Contact Us Today for a Free Consultation