Skip to Content
Custom Deck, Porches & Patios Services in Atlanta
The team at Decks & More has been serving the Metro Atlanta area since 2001. Over nearly two decades, we have earned credentials from leading nationwide organizations. Our commitment to customer service and exceptional craftsmanship has helped us grow and thrive in the Peach State, becoming Atlanta's most reliable custom deck builder. But our expertise does not stop there. We provide interior and exterior services to enhance homes of all sizes. Yet we treat each project with the same attention and care that we did our first. Regardless of whether your renovations can be completed for $1,000 or require a $350,000 investment, you will always get our best. Call us to learn more.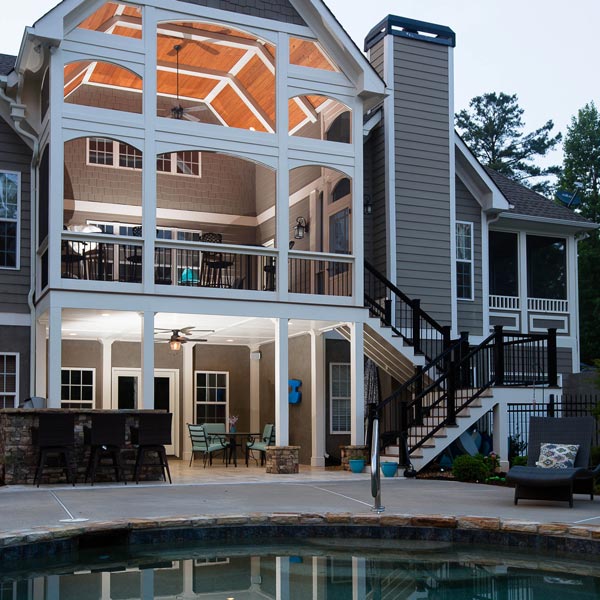 We Hold Several Industry Licenses, Certifications, and Memberships
With more than 20 years of experience and hundreds of projects in our portfolio, we have made a splash in the Atlanta-area home improvement industry. Our notoriety has helped us earn multiple awards for our craftsmanship, including the Contractor of the Year Award in 2011 and the Big 50 Remodeling Award in 2012 from Hanley Wood. Additionally, the North American Deck and Rail Association (NADRA) once recognized Decks & More as the national winner for best wood deck under 500 square feet. Our rewards are reflections of the expertise we have gained through membership of leading industry organizations such as the NADRA and National Association of Remodelers Industry (NARI). Other credentials and licenses include:
Georgia State Licensed Contractor – #RLCO-000751
City of Smyrna Business License – #2002230
Georgia Soil and Water Conservation Commission certification
Certification by Trex-Pro with composite decking
Contact Us Today to Learn How We Can Help You
Credentials and licenses are meaningless without a committed team of professionals that is driven to serve Metro Atlanta and the surrounding area. Decks & More has a passion for home improvements, so we use our industry partners to learn and grow. Our dedication benefits our customers when they are ready for custom deck designs, a new patio, porch, or an outdoor kitchen, and even indoor space renovations. Let us know how you envision your dream home, and we will help you achieve it. We can even provide an estimate right over the phone. Contact us today to get started.
Contact Us Today for a Free Consultation