Skip to Content
Outdoor Kitchen Builder in Atlanta, GA
Outdoor Kitchen Builders & Contractors at Decks & More
Outdoor kitchens raise your backyard entertainment to the next level. Call on Decks & More when you need assistance with the design and construction of a new outdoor kitchen. Homeowners in Atlanta, GA have trusted us for over two decades because we only use the best materials available and work within your budget. We also have access to the industry's best appliance options to ensure you have everything you need when trying to cook outdoors this summer. Our team works collaboratively with you to ensure you get everything you want and need from your newest home feature. Make your home the spot to come within your neighborhood and host parties for your family and friends.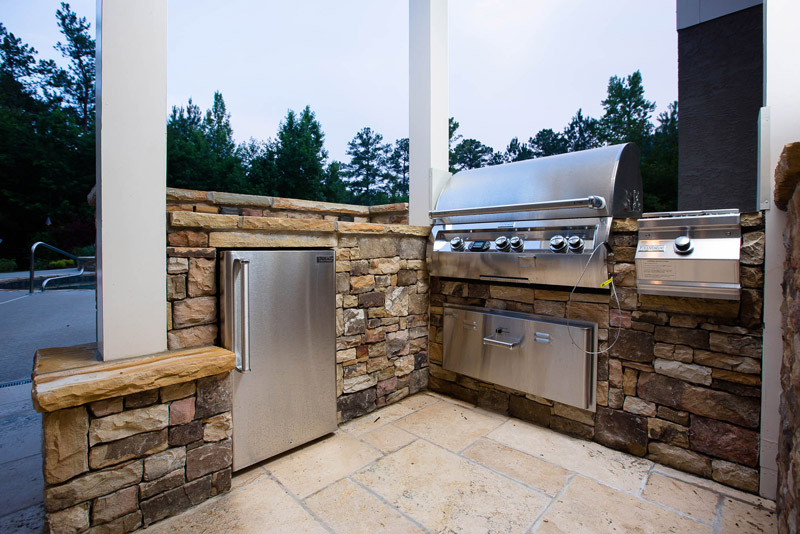 How You Can Benefit from an Outdoor Kitchen at Your Home
When you decide you're ready to have Decks & More help you with your new outdoor kitchen space, give us a call and receive your free estimate in our initial consultation. By working together, we will decide the materials used, features, and appliances necessary to transform your outdoor haven. Below are some of the other benefits you will receive by choosing to work with our experienced team:
Increased Outdoor Entertainment
Add Value to Your Home
Decrease Your Utility Bills
Expand Your Living Space
Save Money by Cooking at Home
And So Much More
Features to Add to Your New Outdoor Kitchen
Your outdoor kitchen is entirely customizable with added features. We will help you find the best appliances to help meet your needs and wants for cooking and storing food and beverages. We can also add items like a firepit, smoker, grill, and more. You can come to us with ideas on how you want it to look, and we'll bring it to life! You can also count on our designers to create a plan based on your imagination if you need some help.
Contact Us Today for a Free Consultation