Skip to Content
We Build Outdoor Kitchens in Atlanta, GA
Quality Contractors Who Install Custom Outdoor Kitchens
A custom outdoor kitchen creates a comfortable, inviting place for friends and family to gather, cook, dine, and socialize. If you are an outdoor cooking enthusiast or just want to keep heat, steam, and cooking odors out of your home, an outdoor kitchen builder can help. At Decks & More, our experienced outdoor kitchen contractors can help you plan and build an outdoor kitchen in Atlanta, GA.
We work hard to bring each customer's custom outdoor kitchen design to life. We handle every aspect of building an outside kitchen, from permitting and blueprinting to building and inspecting. Call us today to schedule a consultation and get a free estimate for the cost to install an outdoor kitchen.
What Is an Outdoor Kitchen Contractor?
An outdoor kitchen contractor is an expert in designing and building an outside kitchen. They have undergone years of education and training on safely planning, constructing, and plumbing custom outdoor kitchens. An outdoor kitchen builder handles all elements of the project, including: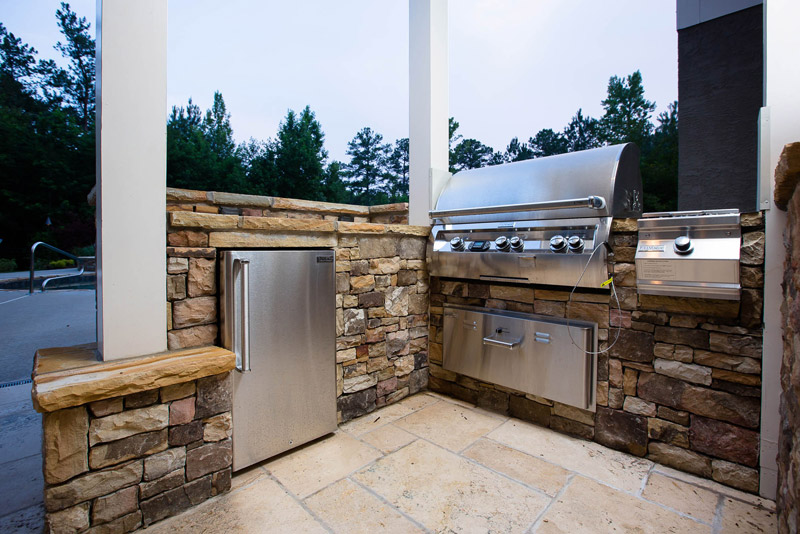 Drawing up official outdoor kitchen plans
Obtaining permits
Hiring subcontractors
Obtaining materials
Framing the kitchen
Handling utility connections
Building an outside kitchen
Maintaining the safety of the outdoor kitchen installation
When you hire a professional, experienced, licensed outdoor kitchen contractor, you can rest assured that the job will be completed safely and correctly. You will not need to worry about damage to your home or safety issues, and you won't risk violating building codes, HOA regulations, or homeowner's insurance terms.
Styles to Consider for Your Outdoor Kitchen Plans
If you want to plan the perfect custom outdoor kitchen, you will want to oversee every element of your outdoor kitchen plans. Here are some design tips that will help you choose the shape, style, and type of outdoor kitchen you want:
Assess Your Space – Your outdoor kitchen installation should be far enough from your home's doors and windows that the venting won't cause issues in your home. It should also be far enough away from anything combustible, and within proximity to utility lines.
Consider Your Habits and Lifestyle – Your outdoor kitchen plans should reflect your cooking and dining habits, and your overall lifestyle. If you are a home chef who cooks most meals at home, you might want to spring for top of the line appliances, extra counter and storage space, and advanced features. If you're a casual cook, you won't need as many options.
Create a Budget – Develop a realistic budget that you can provide to your outdoor kitchen contractor.
Research Custom Outdoor Kitchen Styles – Research custom outdoor kitchen styles and look at your kitchen builder's portfolio for design inspiration. Do you want a high-tech, modern outdoor kitchen, or something simpler? Do you want a portable grill, built-in grill, or grilling island? Do you need cool storage or a griddle? Do you want a straight, curved, I-shaped, or U-shaped kitchen design?
Select Your Outdoor Kitchen Materials – Talk to your kitchen builder about your options for outdoor kitchen materials. They should be low-maintenance and durable, and they should complement the architecture of your home.
Approve All Outdoor Kitchen Building Plans – Finally, make sure you review and approve all outdoor kitchen building plans to ensure they match your vision for the design.
Benefits of an Outdoor Kitchen Installation
An outdoor kitchen installation is an investment in the comfort and beauty of your home. A custom outdoor kitchen will add value to your home and turn it into a great space for entertaining, hosting friends and family, dining, cooking, and relaxing. Here's a look at some of the other benefits of building an outside kitchen:
Extend your space for entertaining, cooking, dining, and relaxing.
Keep heat, steam, and cooking odors out of your home.
Lower your energy costs.
Enjoy convenience and comfort.
Reduce the costs of dining out.
Improve flexibility and versatility of your cooking and dining options.
Spend more time outside in the fresh air.
Our Custom Outdoor Kitchens
We can guide you through the process of choosing custom features for your outdoor kitchen installation. We work closely with each customer to identify their needs, goals, lifestyle, budget, and vision so we can find the perfect options for their outdoor kitchen plans. We can include elements like a fire pit, outdoor heaters and fans, cool storage, seating and dining areas, water features, a smoker, a grill, and more.
Choosing Quality Building Materials
We offer a variety of quality building materials for your outdoor kitchen installation. We source our materials from trusted partners in the industry, and have personally tested all materials to ensure they are durable, high-quality, and safe. We can help you choose materials that complement your home's architecture and existing design elements so that your custom outdoor kitchen truly adds value and beauty to your home. Our quality materials include:
Natural wood
Natural stone
Stainless steel
Brick
Concrete and cement masonry
Composite wood
Why Choose Decks & More to Install Outdoor Kitchens?
Our locally owned and operated business has been providing quality, reliable, and affordable services in the Atlanta area for over 20 years. We have extensive experience and training in designing, building, installing, inspecting, and repairing decks, patios, covered porches, sunrooms, additions, and outdoor kitchens. We are driven by our passion for design and our commitment to quality work that adds beauty and value to homes. Our focus, dedication, work ethic, and design quality set us apart from the rest and make us a smart choice for your custom outdoor kitchen design.
Request an Estimate for Outdoor Kitchen Building in Atlanta
Call us today or contact us online to schedule a free estimate for outdoor kitchen building in Atlanta, GA. Our experienced team loves working closely with customers to help them achieve their dreams of a beautiful, functional, and comfortable custom outdoor kitchen. Get started today and enjoy cooking healthy meals in the fresh outdoor air with friends and family.
Contact Us Today for a Free Consultation