Skip to Content
About Patios Contractors in Atlanta, GA
Luxury Backyard Patios and Patio Installation
Decks & More is the team to call when you are thinking about adding a custom-built patio to your Atlanta, GA home. Resident homeowners have called on us for our design and installation skills because they know we only work with the highest-grade materials while working with your budget to ensure exceptional results.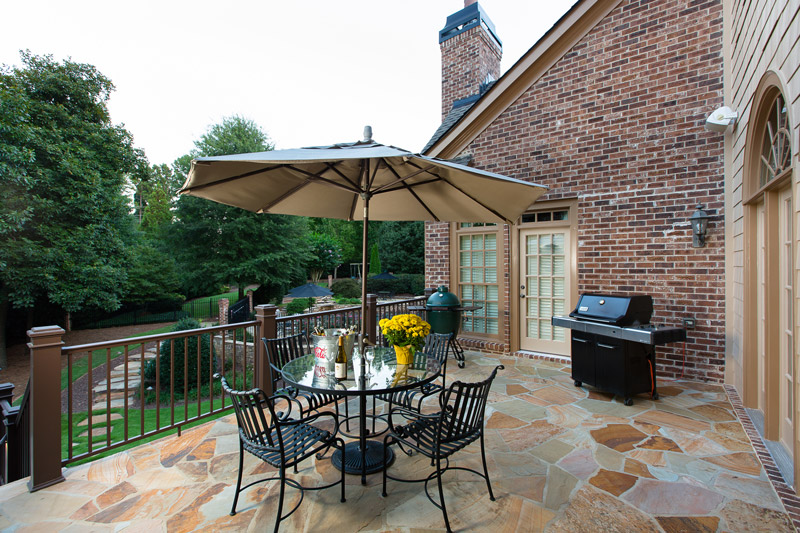 The Benefits of a Custom Patio
A patio adds value to any home, whether it's your personal experience at your house or when looking to resell. Having a quality patio designed and built by our team will allow you to enjoy your outdoor space, providing you with ample room to entertain loved ones and relax in your personal backyard oasis.
Custom Patio Design
Creating a patio with Decks & More is the ample way to make your home stand out. Patios allow for a pleasant and practical extension to your living space while providing a comfortable space to relax and entertain. Our custom design build enables you to explore your creativity while choosing tailor-made features that compliment your home and lifestyle.
Brick and Stone Patio Construction
Brick and stone patio construction is a popular material choice as it provides style versatility while adding extended durability. Whether you opt for a mortared or dry placement brick or stone patio, you have to opportunity to choose between straight lines, intricate patterns, and beyond to create a bold, beautiful look that provides functionality and character.
Patio Design Material Choices
Our expert designers and patio contractors will help you choose the most suitable materials for your custom patio build. Once the style has been determined, we offer the following material selection:
Paver
Brick
Flagstone
Gravel
Slate
Concrete
Backyard Patio Sizes
When designing your backyard patio, it's important to consider the purpose and function of your new addition. If you are someone who enjoys hosting guests and throwing exciting barbecues, it's essential to plan for enough space to accommodate your guests, outdoor furniture, and outdoor kitchen features. We recommend building a patio that is 400-500 square feet or larger.
Trusted Patio Installation
As a full-stack outdoor living design and build company, we can take on your patio design as an addition to a full backyard remodel, or as a single service. We provide you with an array of material options and guide you as you decide the specifics of your custom patio build to ensure your vision comes to life.
Our Patio Installation Process
At Decks & More, we make patio design a breeze by implementing the following steps in our process:
Consultation
We are sure to fully understand your vision before beginning the project
Survey and Design
We walk-through your patio area to collect design ideas and specifications
Installation
Once the designs are finalized, we begin construction
Choose Decks & More for Your Custom Patio Build
For more than two decades, homeowners have chosen Decks & More when looking to add a beautiful patio to their home. We respect your budget and offer a five-year warranty on all of our services. Our reputation is a testament to the quality work you can expect when you choose our team of experts.
Amplify Your Living Space
Don't stop at a beautiful patio, transform your living space with the help of Decks & More's leading exterior home services. Whether you're looking to enhance the comfort of your outdoor area or add entertainment features to liven up your parties, our experts are here to make it happen with quality services you can count on.
Let's Get Started on Your Patio Design
Discover how you can make the most of your outdoor living space with a custom patio design by Decks & More. Contact our friendly professionals today to discuss your patio goals and let's begin your backyard transformation.
Contact Us Today for a Free Consultation