Skip to Content
Wood Deck Installation in Atlanta, GA
Quality Wood Deck Installation in Atlanta
Wood decks have a well-deserved reputation for their beauty, durability, and elegance they add to any house. Wood decks provide a lovely outdoor area where you can enjoy the fresh air on your property, spend quality time grilling or relaxing with family and friends, or simply spend time stargazing and enjoying the luxury of your private outside space. Decks & More serves the Atlanta community with high-quality deck installation. Whatever your deck dreams are, we are here to make them come true. Wood decks provide natural-looking, affordable additions to your home when more outdoor space is desired. We install decks of all types of wood. Let us know what color and grain you desire, and we will work with you to create and install your wood deck today.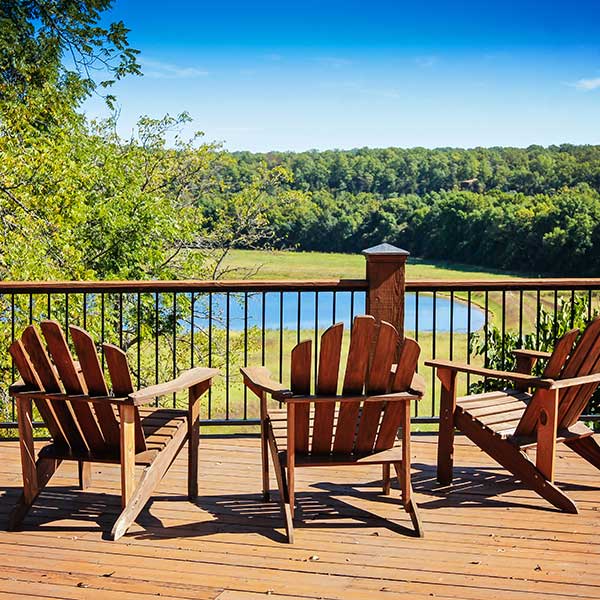 Building a Wood Deck Is a Solid Home Investment
When you choose to build a wood deck with Decks & More, you are making a solid investment in your property. Wood decks can increase the value of your home, adding a level of beauty and functionality that is greatly coveted. The long-standing popularity of wood decks is a testament to their excellence. Our decks are of the highest quality, and our team of experienced builders is dedicated to building a deck that you will love.
Six Benefits of Wood Decks
Great for all seasons
Wood decks will hold up no matter how brutal the winter and how hot the summer. Here in Atlanta, Decks & More builds wood decks that last, no matter the climate. Wood is naturally durable. Trees in the forest grow to withstand all kinds of conditions, and once turned into a carefully designed deck, wood is a material that will last and prove its durable beauty and functionality.
Customizable
Wood decks are loved for their ability to be customized to the specifications of the client. Decks & More is here to work with you to design and install just the deck you want. You can choose the color, grain, and wood type, and our team will make your vision a reality. The size, dimensions, and proportions are also completely customizable. Decks & More offers all kinds of customizable features, like steps and railings, so that your deck matches your vision.
Wood is durable
While wood decks do need maintenance and the occasional repair in order to stay their best, there is no denying the incredible durability of wood. With a quality deck company like Decks & More, we ensure the deck is sealed and ready to last for decades. A good wood deck can last for longer than you might expect.
Unbeatable beauty
No matter the era, wood decks have never gone out of style. A wood deck fits into the natural surroundings and adds the beauty of mother nature to any house. Despite the benefits of other materials, wood is often chosen due to its classic aesthetic. There is just no beating the beauty of a wood deck.
Affordability
Wood is one of the most affordable choices when it comes to deck materials. A quality wood deck from Decks & More can be well within your budget and still give you all the elements you desire in a deck. Prices vary. Call today for a quote.
Easy to repair
One of the important qualities of a wood deck is that whatever the issue, a wood deck can more often than not be repaired and go on functioning as well as new. Whether you have an issue with the splitting of wood boards, rotting, warping, or other common issues, wood decks can be effectively repaired by professionals.
Call Us Today to Get Your Dream Wood Deck
If you are considering enhancing your home with a wood deck, now is the time. Call us today for a quote and to speak with our team of skilled professionals.
Contact Us Today for a Free Consultation