Skip to Content
Porch Builder in Atlanta, GA
Porches Builders & Contractors at Decks & More
Looking to add a porch onto your home? Call on Atlanta's trusted team in for the design and construction of porches. Decks & More has been assisting homeowners for more than 20 years get the add-ons our neighbors, friends, and families are looking to get for their home. Whether to enhance your experience with the home or when preparing to sell, adding a porch will significantly benefit your home. Together we will plan out the design and look for your porch. Our team can work from ideas you already have, or we can help collaborate and use previous jobs to help give us the basic design.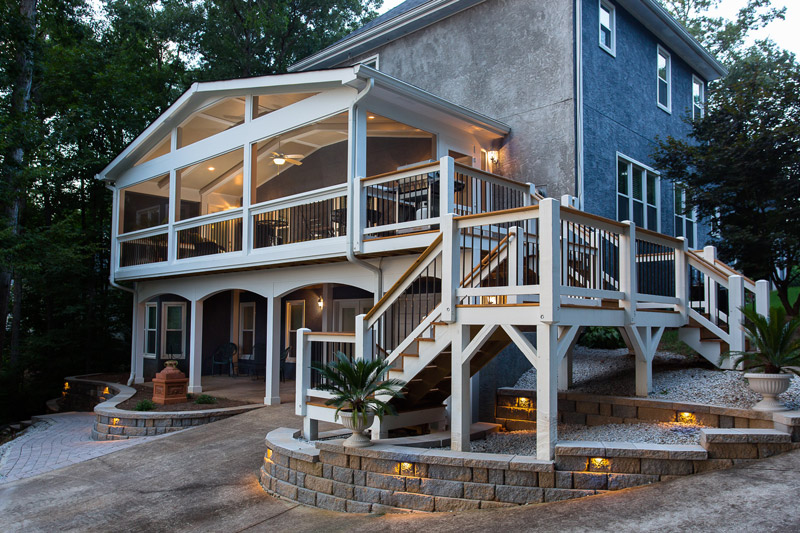 Why Have Decks & More Build You a Porch
Most homeowners may think of adding a deck to the backyard, but what about the front yard? Allow Decks & More to help make you a beautiful space for you to have your morning coffee or afternoon tea while watching the neighborhood children play or waiting for your postal worker to drop off some good news. Our designers help you decide if we should build an enclosed or opened porch for your home. We can do screened-in, glass-enclosed walls, or the space can be open. Depending on how you want to enjoy your new porch will determine the best course of action for our construction team. We only use the highest-quality materials when constructing your porch. Below are some other benefits to having us design and build your new porch:
Custom design feature
Entertainment space
Increased property value
Increased property space
Curb appeal
Enjoyable outdoor space
Decks & More: The Premier Porch Construction Company
Count on our award-winning porch designing and installation team when you are looking to enhance your home with the addition of a porch. Whether you are looking to add curb appeal, increase property value, or create an expansive outdoor entertainment space, Decks & More is the team to call on. We give you a free estimate in your consultation and go over everything you are looking to get from adding your new porch.
Contact Us Today for a Free Consultation