Skip to Content
Custom Porches in Atlanta, GA
Our Porch Builders Can Beautify Your Home
Installing screens on porches makes them more functional for year-round use. A quality screen porch installation is an affordable way to improve the comfort, quality, and value of your home. At Decks & More, our experienced front porch contractors have years of experience installing decks with screened porches in Atlanta, GA.
Our porch builders can install screens on porches and build covered porches that will provide decades of enjoyment for you and your family. Our screened porch builders specialize in elaborate custom options, as well as simple, affordable designs. We also offer porch repair to extend the lifespan of your existing porch. Call us today to get a free estimate for the cost of covered porches in Atlanta.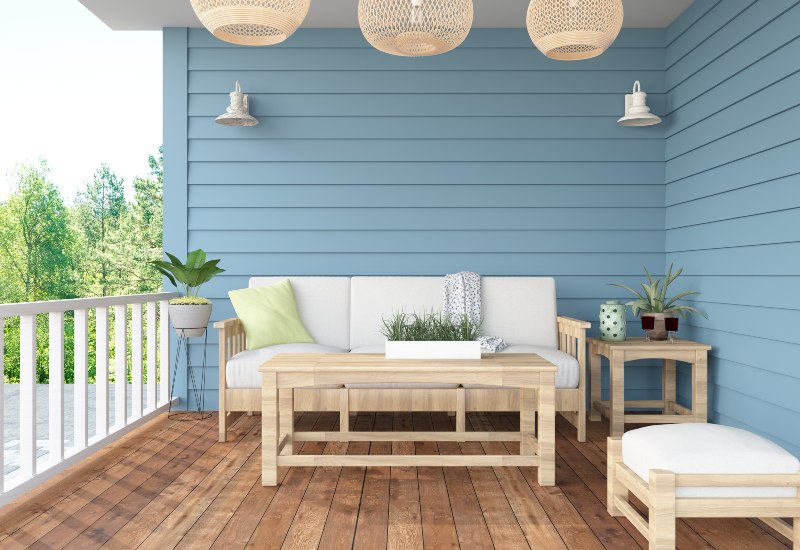 Porch Builder Services & Custom Screen Porch Installations
Screened, covered porches have long been a beautiful addition to homes in the Atlanta area. They allow you to enjoy the outdoors and sunshine without dealing with mosquitos, gnats, and other insects. Our experienced porch contractors can help you design a custom deck with a screened porch where you can enjoy a drink, cup of coffee, or a conversation while taking in the fresh air.
Our custom screen porch installations can include a mesh screen, glass-enclosed walls, or light-blocking or transparent curtains. Our porch builders can also build custom open porches. We only use the highest-quality materials, and we work with each client every step of the way to ensure their vision of a beautiful front porch becomes a reality.
Boost Your Curb Appeal with Help from a Front Porch Builder
Our front porch builders can help you boost the curb appeal of your home. Whether you plan on selling or just want to make your home more attractive and comfortable, we can help you improve your home. Most people who build a deck with a screened porch end up recouping around 84% of the costs by increasing the value of the home.
If you're wondering why every home should have a porch, take a look at these benefits of building a covered porch:
Enjoy a relaxing atmosphere.
Create a gathering place for friends and family.
Enjoy the fresh air and outdoors without dealing with bugs.
Stay protected from the elements.
Protect your packages from theft.
Reduce the risk of vandalism or voyeurs.
Increase your living and entertaining space.
Add value to your home and improve its curb appeal.
Spend more time outdoors.
What to Look for in a Front Porch Contractor
Hiring an experienced front porch contractor will ensure the job is done correctly the first time. Our front porch builders have extensive education, training, and experience in designing and building custom porches and covered porches. They also have access to the tools, equipment, and materials to do the job professionally and safely. They will secure the proper permits for screen porch installation and draw up professional plans that make the most effective and attractive use of your space.
When looking for a qualified porch contractor, follow these tips:
Ask friends and family for recommendations.
Look at their websites and social media pages for information about their experience and portfolios of completed projects.
Read reviews and customer testimonials.
Confirm that they are registered contractors and don't have any violations or complaints against them.
Verify that they are bonded and insured.
Ask if they offer estimates and contracts.
Find out where they source their materials from.
Meet them in person to assess their communication skills.
Ask them about certifications, awards, or experience in specialized areas.
Our Porch Repair Services
In addition to designing and building custom porches and covered porches, we also offer quality porch repair services throughout Atlanta. Our porch repair services extend the lifespan of your porch and ensure that it's safe and comfortable to use. We can fix structural and cosmetic issues and remove, repair, replace, and repaint your porches flooring, framing, hardware, posts, columns, railings, steps, and other features.
Why Choose Decks & More for Covered Porches?
Decks & More has been a trusted builder of porches, decks, sunrooms, additions, patios, and outdoor kitchens for over 20 years. We are a leader in the industry because we operate our business with honesty and integrity. We build deep customer relationships based on trust, and we work closely with each customer to assess their needs and goals, and bring their vision to life.
Our passion and commitment to quality workmanship and exceptional customer service sets us apart from the rest. We also pride ourselves on our work ethic, attention to detail, and design quality.
Call Our Back Porch Builders in Atlanta, GA Today
Call us today or contact us online to schedule a consultation and get a free estimate from our back porch builders in Atlanta, GA. We love meeting new customers and turning their dreams into reality. Let us improve the value, comfort, and functionality of your home.
Contact Us Today for a Free Consultation