Skip to Content
Screen Room Contractors in Atlanta, GA
What is a Screened Room?
A screen room is a classic, simple form of protected outdoor living space. Decks & More is proud to be your trusted screen room contractor in Atlanta, GA. We can add screened rooms to existing porches, decks, patios, or build a new space. A screen room protects you from pesky pests and inclement weather. Our expert team will design, build, and install your new screen room. We're proud to offer amazing outdoor living additions to your home. We love to make your dreams of the perfect outdoor oasis come true. Contact us today for a free consultation.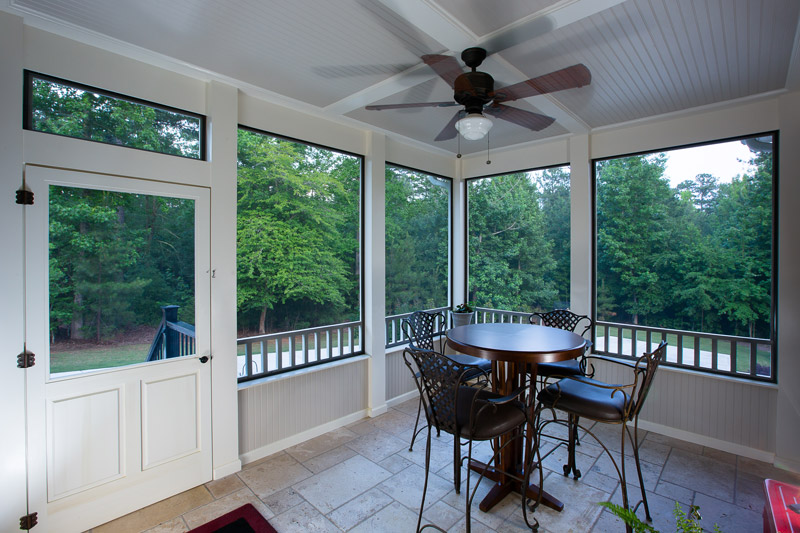 Benefits of a Screen Room
Patio screen enclosures are timeless and trendy due to their many benefits. Many homeowners love the look and feel of screen rooms. The most significant benefits of screen rooms include:
Keeps away pests like mosquitoes and flies throughout the year.
Creates a space to enjoy the beauty of nature without venturing outside.
Offers protection from wind, sun, and rain.
Increases property value and square footage.
Provides additional space for entertaining guests.
Inspiration for Your Outdoor Screened Room
The options for your outdoor screen room are endless. Whether you want a space for dining outside without pests bothering you or a place for children to play, an outdoor screen room is a perfect choice. Outdoor screened rooms are spacious enough for extra toys and furniture. They offer ample amounts of natural light for entertaining a few guests or reading alone. The natural light and large space also make a screened room functional as a workspace or studio. Our design team can help turn any of your screened room dreams to life.
What is The Process of Creating a Custom Screen Room?
We understand it's often hard to know where to start when creating your patio enclosure or custom screen room. The first thing is to contact us to schedule a free design consultation. We'll discuss the details of your project and determine the goals for your screen room. We'll find the best placement for your new outdoor screened room based on your property and zoning laws. After the consultation, our design experts will create potential layouts and options to fit your goals. Our construction team will build your custom screen room after you approve or make changes to our designs. We will work with you every step of the way, ensuring attention to detail and perfect installation.
Contact Decks & More Today
Decks & More is your premier screen room contractor. We specialize in adding sunrooms, decks, pergolas, porches, and more to your home. A screen room lets you get the best of the indoors and outdoors in one space. We want to make your dreams for outdoor living spaces come true with our designs. We're proud to use the highest quality materials in all our projects. Our experienced crews are well-trained in the most innovative building techniques to ensure your space is perfect. We have over 20 years of experience in the industry, so you know you're in great hands. Our specialty contractors are committed to meeting your needs and building the best outdoor living spaces for you. Contact us today for a free consultation!
Contact Us Today for a Free Consultation