Skip to Content
Serving Atlanta with Deck Installation Services
Atlanta Deck Installation Services
Our team of experienced professionals here at Decks & More is equipped to build you any one of a multitude of deck types. Whatever your vision, budget, and housing situation, we are here to help you make your dream deck a reality. Check out the types of decks we install below.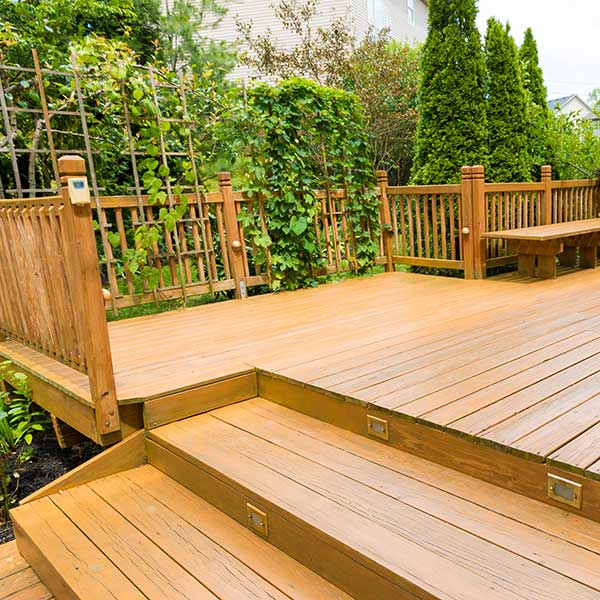 Story Elevated Deck and Tiered Deck
Story elevated decks and tiered decks are elegant additions to any home. They provide a way to travel between the floors of your home and are a popular form of deck for families and anyone who desires the practical fun of a multi-level deck.
Attached Deck
An attached deck can be attached to a home without a great deal of labor or installation time. Attached decks are somewhat similar to patios that are on the ground floor, but they are slightly raised. Attached decks are made of wood and can provide a beautiful addition to your home.
Island Deck
An island deck is a free-standing deck that can be placed just about anywhere. Island decks are great for enhancing yards and bringing a fabulous new element to your property. They can be placed on many types of surfaces, even if the ground is not perfectly flat.
Wrap-Around Deck
A wrap-around deck is similar to a porch but can be shaped and proportioned to your liking. A wrap-around deck offers the classic beauty and functionality of a porch on an old plantation style house, but it offers enhanced customizability to suit your house.
Multi-Level Deck
Multi-level decks are a fantastic choice for steeper or larger properties. Multiple platforms are connected by steps, making this deck not only stunning but also highly functional.
Roof-Top Deck
A roof-top deck is an incredibly popular choice due to its help in optimizing your property's space and providing a fun and beautiful area for parties or relaxation. Decks & More is here to build your roof-top deck that will give you decades of enjoyment.
Deck Stairs and Steps
Deck stairs and steps are perfect for connecting multi-leveled stories. We are able to install deck stairs of various types of wood and can customize your deck stairs to your specifications.
Contact Us Today for a Free Consultation