Skip to Content
Home Upgrade Project Ideas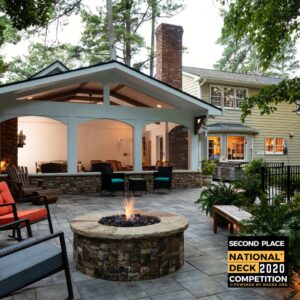 3 Home Upgrade Project Ideas to Boost Your Wellbeing
A healthy home is a happy home, right? A beautifully functioning home that promotes wellbeing and boosts happiness is a blessing in disguise, as its effects are reaped for years down the line. And what most people don't realize is that their home could be the very thing contributing to adverse physical conditions and poor mental health. So if you've been looking to switch up your home and feel better while doing it, you're in the right place. At Decks & More, we appreciate the value of simple home improvements that have a high payoff. Let's get into it.
Did you know that most people spend 90% of their time indoors? Thus, it's the indoor pollutants and toxins you need to worry about, rather than outdoor pollution. The CDC reports that household pollutants found in paint, dust mites, and interior materials and fabrics can result in allergic reactions, respiratory illness, and cardiovascular disease. Thus, one of the most important upgrades you can make is to switch out all the toxic stuff with better quality compounds. For example, a fresh coat of paint can make your space look bright and fresh. But checking to ensure your color of choice does not contain heavy metals, carcinogens, or other ecologically harmful compounds will be just as important.
One of the best things you can do for your mental health is making a home upgrade that ensures you get outside and get fresh air. You could do this by adding a deck or porch to your property. Go with a custom build option – we love the offerings at Decks & More – so you can personalize your patio for entertaining, working out, or any other priority. The benefits of getting out in nature are unparalleled – according to Business Insider, even 30 minutes outside can boost happiness and reduce stress, anxiety, and depression.
If you're worried about paying for a more high-end renovation project like building a deck, you can take out a home equity loan for more manageable payments. Most homeowners have built up equity existing in their home, which can be calculated by subtracting the money owed on the mortgage from the present value of the property. This should give you an estimate of how much credit you'll get from taking out a home equity loan, making budgeting and accounting decisions easier.
Focus on the three key elements to living a long and vibrant life: good sleep, good food, and lots of movement. If your home doesn't have features that support this, you can easily make additions to boost your overall quality of life. For example, start by switching out your conventional mattress for a certified chemical-free one. Why? Because most mattresses have harmful toxins and retardants in them, which are inhaled when we're sleeping.
Next, if you love to work out, why not create the perfect home gym in a spare room or basement? A home gym will cost you on the lower end of a renovation too. If you have a little more money to spend on upgrades, consider renovating your kitchen, so it's more user-friendly and inspiring. A beautiful kitchen inspires nutritious and healthy meals, not to mention the absence of chemicals from old cabinet wood and countertops will be a bonus. Be sure to double-check all the new finishes you pick out to ensure they're environmental and safety compliant.
Buying a house is a significant investment, but do you know what else is worth investing in? That's right, your health! Exploring remodels and upgrades is well worth the time and effort, as you will find yourself with a high return on investment – both in property value and wellbeing.
Need a custom deck, patio, or porch to complete your home upgrade project? At Decks & More, we have over 20 years of experience in completing high-end deck projects so you can enjoy your home to the fullest. Click here to learn more about our process or reach out at 770-884-7428 for more information!
Contact Us Today for a Free Consultation